At Goral Real Estate we stay ahead of the changing times. We believe in a new and innovative way of doing business. Take control of your real estate career with more convenience, knowledge and more profit. We have the tools and experience and provide agent support. And we offer it all with an attractive commission plan so you can keep more of what you earn!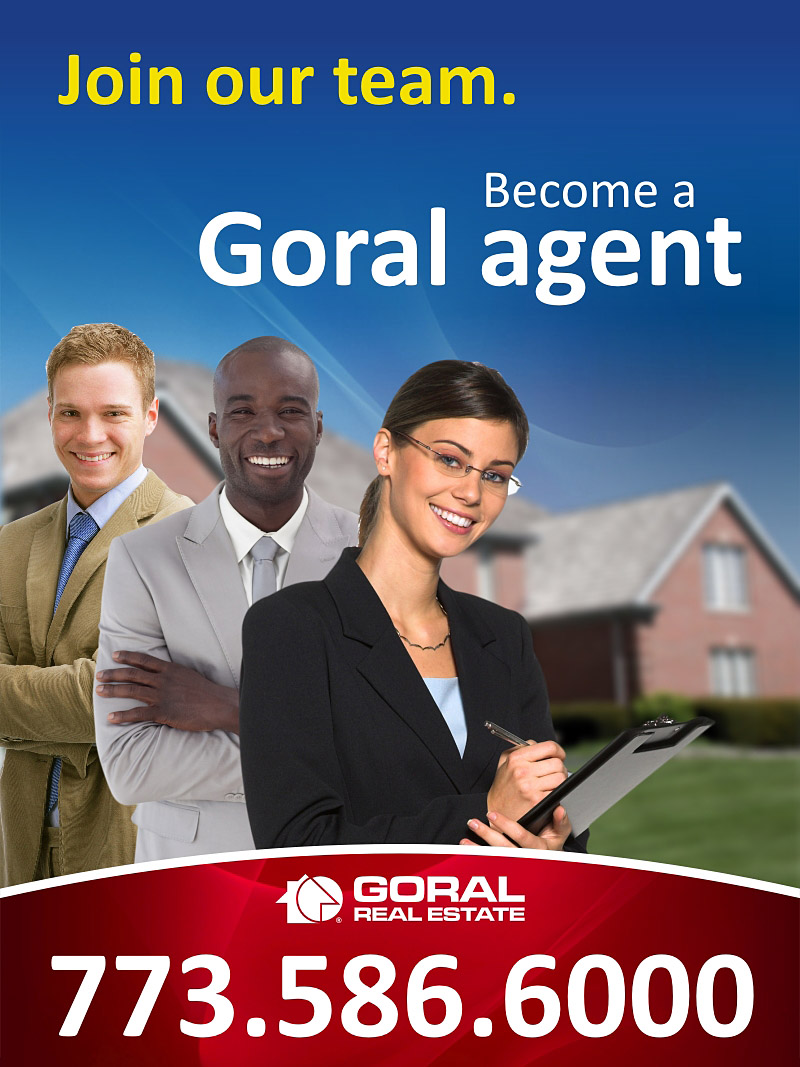 Complimentary to our agents
❖ Signs and riders for your listings.
❖ Use of our office, equipment, and administrative staff.
❖ Advertisements for your listings in internet and many publications.
❖ Trade shows and event gatherings.
Convenience for our agents
❖ 24/7 access for all of our agents to our fully equipped office.
❖ Conference rooms to meet with clients.
❖ Virtual Tour featured in all listings upon request.
❖ Unlimited training personally from the broker.
❖ Our design team takes care of all your marketing needs.
❖ Set your own commission rates.
❖ We hold earnest money.
❖ Commission paid at the day of closing.
Committed to our agents
❖ Fastest growing web page service in Chicago.
❖ We have our own marketing/publishing department.
❖ No minimum transaction requirements.
❖ You are not required to use our other services, nor are you penalized.
❖ We do NOT broadcast your commission structure to the public.
❖ Training provided to new agents: We have a vested interest in your success. If you fail — we fail.
We strongly feel that some larger conglomerate brokerage firms may have lost site of the personal service and their primary focus is to increase revenue from new sales associates by charging monthly "junk fees". The focus should be on longevity of employment by cultivating the agents into successful professionals. Goral Real Estate offers weekly training, guidance, a full time web graphics department that makes creating materials, like preview booklets, standard for every listing. We also offer experienced staffing, management, and support. Does this sound too good to be true? Well, it's not. This is what we, as a company, are all about. Our company cannot be successful unless the associates are successful. That's why we have one of the highest agent retention rates in the field.
I would like to invite you to a confidential interview with Goral Real Estate. Call me now!
Sincerely, Anna Goral